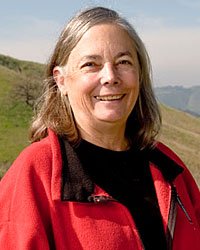 State Senator Fran Pavley's record of environmental accomplishments is astonishing.
During her time as a member of the state Assembly and in her first term in the state Senate, Pavley authored bills that became laws to increase penalties for water polluters, increase the use of alternative energy in vehicles, make it possible for rechargeable batteries to be easily recycled, ban toxic chemicals in children's jewelry, and increase enforcement of energy efficiency standards in appliances. If an Assemblymember had achieved all of this during her time in the legislature, she would be considered one of the most accomplished pro-environment legislators in California history. So what does it say about Senator Fran Pavley that all of these laws combined don't even begin to compare to her biggest accomplishments?
It's the rare legislator who is so synonymous with conservation that people know her bills by her name rather than the bill's name itself, but if you asked people around the world more of them will recognize the "Pavley bill" than the "Clear Car Standards bill." That's because in 2002 when then-Assemblymember Fran Pavley authored AB 1493 and convinced Tom Harman to not only be the sole Republican vote –but the magic 41st vote needed to pass out of the Assembly, it survived its largest hurdle and eventually became the first bill in American history to seriously address global warming by requiring tougher standards in tailpipe emissions from cars.  The law would then become a model used by more than a dozen other states and Canada to do the same.
This accomplishment is more impressive when you consider that it was a first of its kind bill idea that was authored by a little-known freshman legislator during the rise of the most anti-environmental president in American history: George W. Bush.  At a time when the Bush Administration was setting the country and the world back, Fran Pavley was leading the world's biggest emitter of greenhouse gases forward with groundbreaking solutions to climate change
But the story doesn't end there. In 2006, Assemblymember Pavley did it again. Despite mounting pressure from polluters and a monumental polluter funded anti-environment lobbying effort, Assemblymember Pavley authored AB 32, the Global Warming Solutions Act, which created the framework to make California the nation's leader in reducing greenhouse gas emissions. Under the context of this law, in the following years the legislature would pass additional laws to end sprawl development and increase our renewable energy generation all the while growing our state's economy by creating alternative energy jobs. In fact, signing this bill into law is what gave then-Governor Arnold Schwarzenegger the undeserved reputation of "green governor." Never had any feat of this size and nature been accomplished in all of the United States, let alone just California.
So now that you know what she has already done, imagine what Senator Pavley could do if we re-elected her for another four more years! Well, thanks to decennial redistricting, that may be easier said than done. Pavley is running in the new SD 27, which covers the West San Fernando Valley, Malibu, Santa Clarita, and Eastern Ventura County. This new, more inland seat finds Pavley's home smack in the middle of it where she once served as the first Mayor of Agoura Hills and spent her previous career as a local school teacher. While the party registration is certainly in her favor, this district is clearly more conservative and therefore more receptive to the arguments of polluters than her old Senate District.
Because Democrats are just two seats away from reaching a supermajority in the state legislature, all expectations are that enormous amounts of special interest money and party money from both Democrats and Republicans will be spent on this race. For CLCV, this opportunity to re-elect one of the best environmental champions our state has ever seen makes this a must-win campaign.
The rumor mill is alive and well with potential opponents who will likely be well-funded by polluter interests eager to win this critical Senate seat and knock out one of the most effective environmental champions in American history. For now, we hope you join us in keeping this critical race on your radar and pledge now to support Senator Pavley's re-election in June and November.
Posted on February 15, 2012
in