New Ad Campaign Blanketing State Capitol Urges State Leaders to Use Budget Surplus to Act NOW in the Climate Fight
CONTACT: Anthony Matthews, 202-297-3830
SACRAMENTO, CA – As the clock runs out on state budget negotiations, a growing campaign of organizations led by California Environmental Voters (EnviroVoters) is blanketing the Capitol with new ads urging Governor Gavin Newsom, Assembly Speaker Anthony Rendon, and Senate President Pro Tem Toni Atkins to stop kicking the can down the road on climate and pass a Climate Courage Budget. Sample ad enclosed and attached.
The campaign contends California must act at a massive scale on climate before the state reaches a point of no return at the end of this decade, calling for an investment of at least $75 billion over five years in clean air, energy, transportation, water, and other vital infrastructure.
"California needs a budget that protects our health, lives, and livelihoods from the deadly threats caused by climate change. We have a record budget surplus now and time to act before it's too late," said Mary Creasman, CEO at EnviroVoters. "Voters deserve clarity on what is being considered in climate negotiations continuing over the summer. Double counting investments from the past and deepening our dependency on fossil fuels wastes the chance we have this year to save California from becoming a dead end for our kids. We can't waste this opportunity because it might be our last chance."
Learn
more: www.envirovoters.org/climatecouragebudget.
###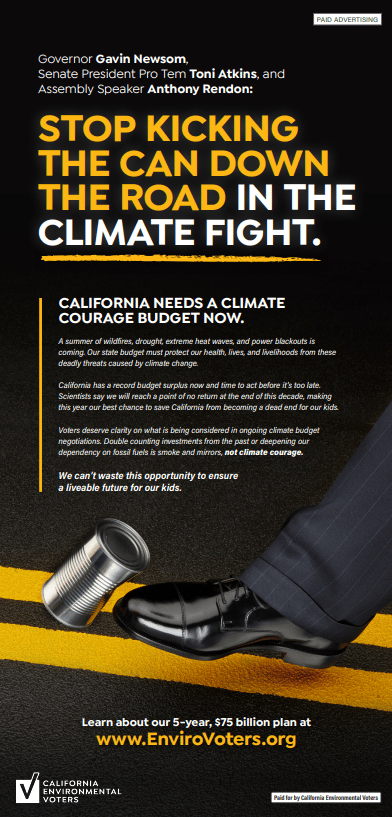 ABOUT CALIFORNIA ENVIRONMENTAL VOTERS
California Environmental Voters (formerly the California League of Conservation Voters) believes the climate crisis is here and this moment requires transformative change. California has the policy solutions to stop climate change but lacks the political will to do it at the rate and scale that's necessary. EnviroVoters exists to build the political power to solve the climate crisis, advance justice, and create a roadmap for global action. We organize voters, elect and train candidates, and hold lawmakers accountable for bold policy change. We won't stop until we have resilient, healthy, thriving communities, and a democracy and economy that is just and sustainable for all. Join us at www.envirovoters.org and on Twitter, Facebook, and Instagram. See more press releases.