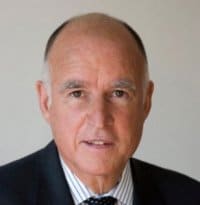 The California League of Conservation Voters (CLCV)—the non-partisan political arm of the environmental movement in California—today announced its endorsement of Jerry Brown for Governor of California.
"CLCV is proud to endorse Jerry Brown to become California's next Governor," said CLCV Chief Executive Officer Warner Chabot. "As Attorney General and as a former Governor of our great state, Jerry Brown has a stellar record of protecting the environment and public health through his leadership on and tough enforcement of our state's environmental laws."
[ Related video: Californians talk about what they want in a greener governor ]
"The November gubernatorial election offers clear choices for California voters," said CLCV Board of Directors President Tom Adams. "Jerry Brown is the only candidate for governor with both an unwavering commitment to the environment, and a clear plan for California to lead the nation to a clean energy economy."
"I am grateful to have the endorsement of the California League of Conservation Voters," said Jerry Brown.  "Our coastline, farmland, mountains, deserts and urban environments all make up the great and unique landscape of California. I have always believed that environmental protection and California's long-term economic prosperity go hand-in-hand and I will continue to promote both as Governor of California."
A key difference between Brown and his Republican opponent Meg Whitman is their position on Proposition 23, the oil industry-backed repeal of California's landmark clean energy and climate law (AB 32) on the November ballot. Brown joins business and military leaders in opposing Prop 23. He recognizes that California's policies resulted in venture capitalists investing billions of dollars in California's clean tech sector, and vigorously defends the climate law from attacks by out-of-state oil companies.
In contrast, Whitman—relying on the same widely discredited studies as the oil industry—calls AB 32 a "job-killer." While she hasn't taken a position on Prop 23, Whitman says she would call for a year-long moratorium on the clean energy law, which would damage the one bright spot in California's economy while bringing a halt to environmental progress. [Update 9/30/10: Whitman now has said she opposes Prop 23, but continues to push for suspension of AB 32.]
"Jerry Brown shares the environmental and clean tech community's vision of California becoming the national, if not the global, leader in developing clean energy, which complements his goals of improving California's air quality, creating jobs, and fighting climate change," said Chabot.
As Governor from 1975-1982, Brown established California as a leader in renewable energy and energy efficiency and conservation, adopted the toughest anti-smog laws in the country, expanded state parks, started the California Conservation Corps, banned the sale of dangerous chemicals, successfully fought offshore oil drilling plans, and signed into law the California Coastal Commission and Coastal Conservancy Acts, among numerous other accomplishments. Brown earned a lifetime score of 86% on CLCV's California Environmental Scorecard for his votes on environmental legislation as Governor.
More recently as Attorney General, Brown defended California's auto emission standards against the Bush Administration, leading to the historic agreement between the Obama Administration and the auto industry that requires cars nationwide to adopt California's standards.  Brown joined other Attorneys General in suing the Bush Administration for failure to regulate greenhouse gas emissions under the Clean Air Act, resulting in a Supreme Court ruling that greenhouse gases are air pollutants subject to the Act.
Brown also worked with cities and counties to develop long-term growth plans to reduce pollution and traffic and halted the Bush Administration's efforts to gut the federal Endangered Species Act, just to name a few key environmental actions as Attorney General.
Posted on September 1, 2010
in